Tanks are washed using a Karcher drop-down washing apparatus without human intervention, with special Lechler nozzles required for high-quality washing of 120 bar. Washing of drain hoses and drain fittings or hatches is carried out using Karcher high pressure equipment.

After each wash, the Station provides an ECD (EFTCO Cleaning Document) Wash Certificate as a certificate of quality.

The station collects and disposes of the liquid remaining after the washing process in accordance with the legislation and the requirements of European standards. The wash station has a durable industrial floor covering and a specially designed water collection system.

The car wash has a unique system for collecting and purifying vapors from tankers.

The station is a member of the EFTCO car wash network.
Our contribution to a sustainable future for the EU and Ukraine.
EFTCO Road Tank Washer Development Plan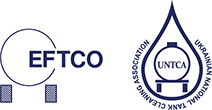 The Ukrainian National Tank Truck Cleaning Association (UNTCA) is a full member of the European Association (EFTCO)
Operating tank car washes in Dnipro and Kremenchug
Plan for the construction of a network of cleaning stations:
2020 - Kiev / Kharkov
2021 - Odessa / Vinnitsa


Our station has been operating since 2013 and during this time has established itself as a reliable partner. The compliance of the washing station of Miko-Chemistry LLC with the European standards has already been confirmed twice during SQAS certifications in 2014 and 2017 by independent European experts.
Please contact us in advance to place an order.
tel: +38 (067) 657 32 20
n.chuba@miko-transport.com.ua